An ASIC is required by:
any person with an operational need for unescorted access to security-sensitive areas at a security controlled airport; or
any person who requires a background check as a requirement of their security-sensitive role.
The following ASIC types confirm the holder has been deemed not a threat to aviation security by the Department of Home Affairs and permitted unescorted access to airport security restricted areas.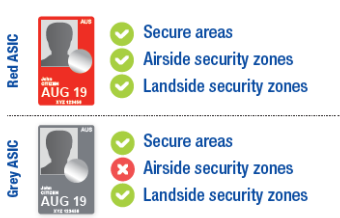 Persons applying for a NAPL valid ASIC should apply online via the link:
https://aviationidaustralia.net.au/
Applicants will be required to provide the following:
original identification documentation for verification;
a recent passport quality photograph;
authorisation for a background check to confirm you are not an unlawful non-citizen; and
operational need letter from your employer or contractor
The following identification documents will require uploading at the time of application:
the start of your identity in Australia - that is, birth certificate, citizenship certificate or ImmiCard (Category A)
a photographic government-issued document that shows your signature - that is, a driver's licence or passport (Category B)
evidence of your identity within the community - that is, Medicare card or marriage certificate (Category C), and
evidence of your current residential address – if the previous documents do not include this information (Category D)
As part of the process, the applicant will be subject to a background check by the Department, to assess eligibility which comprises of:
a security assessment by the Australian Security Intelligence Organisation (ASIO)
a criminal history check by the Australian Criminal Intelligence Commission (ACIC)
an immigration check (if required) by the Department, to confirm an applicant's right to work in Australia
Once the identification documents have been assessed the applicant will receive an email requesting the applicant contacts NAPL Security to arrange a mutually agreeable time to conduct an in-person ID check.
Please schedule your appointment for your in-person ID check here.
Once the applicant receives notification of approval, they will contact NAPL Security to schedule security awareness training and ASIC issue.